Slamdance is like Sundance'e edgy, alt, cousin and this year's virtual edition of the festival was full of great gems. Here is our wrap of the top films and shorts we saw at this year's festival!
Unforgivable (Imperdonable) | 2020| dir. by Marlén Viñayo
Unforgivable is an emotionally wrecking documentary short that humanizes its subjects in a direct, compelling, and masterful way. It follows a group of ex gang members in an El Salvador prison who have committed atrocious crimes. In one scene, Geovanny, one of the people profiled, describes killing a man, ripping his heart, and then taking a bite out of it. These men, however, see their sexuality, just as unforgivable. Stuck inside a religious jail, they struggle to accept who they are inside a prison with antiquated views. Unforgivable hurts because you can't help but imagine what another life would have been like for these people.
Taipei Suicide Story | 2020 | dir. by KEFF
First things first: this one is dark. Utterly captivating and tragic, this film is set in a suicide hotel in Taiwan. It follows two people, a receptionist and a guest, who strike up an unlikely conversation and form a kinship over the course of one night. The receptionist is a grim reaper of sorts, leading his guests to their death and making sure that they find the right way to do it. As morning rises and the veil of the night fades, the viewer is left with a heavy heart and mind.
Teenage Emotions | 2021 | dir. by Frédéric Da
Are you old and cynical with the nostalgia of high school just a vague memory? Don't worry, this film will zap you right back in place. Teenage Emotions follows a group of teenagers in a modern American high school as they navigate their lives and roles within high school. The dialogue feels genuine and reflects the true nature of how teens act — so much that I had to check a few times if this film was a documentary or not.
Dea | 2021 | dir. by Alberto Gerosa
Dea follows a young Indonesian woman named Dea as she leaves her hometown in Indonesia to become a migrant domestic worker in Hong Hong. Dea is a character that will break your heart. We can feel her pain as she tries to find her place in Hong Hong, her desperation of trying to find a better life and her hopelessness against a system too big to overthrow. Dea deals with multiple instances of assault during her time in Hong Kong, but we do see moments of the girl she left behind in Indonesia. She has a passion for music, and when she's in front of a microphone singing karaoke to buzzed tourists, it makes your soul ache for the situation she finds herself in. This film is the impressive result of a nine month long improv lab with a group of Indonesian women who have worked as migrant domestic workers.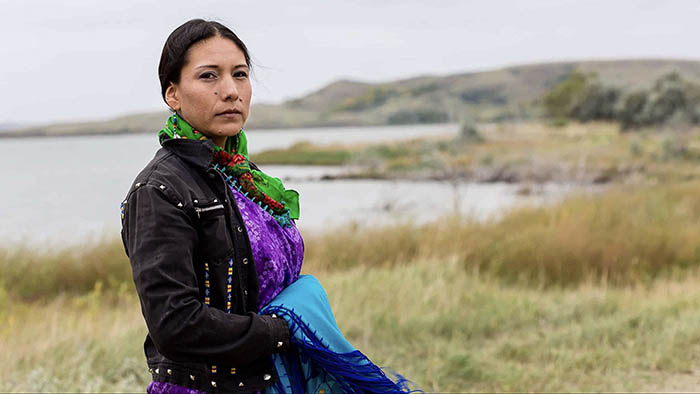 End of the Line: The Women of Standing Rock | 2021 | dir. by Sharon Kring
The strength of the women featured in this documentary is tenacious, relentless, and awe worthy. This documentary follows a group of women as they travel to Standing Rock to protest against the Keystone XL Pipeline. End of the Line follows the intimate struggle and connection these women have with the land, water, and each other.
Opera | 2020 | dir. by Erick Oh
Opera is an amazing feat of animation, gleaming with grandeur and decay. There are callbacks to the Tower of Babylon and Metropolis in this 8 minute short. Opera examines humanity and its structure through an epically sized pyramid. Through it, we see a reflection on how society works, with people working, fighting, rebelling, and dying at the bottom, while at the top, nothing changed. This Oscar shortlisted film is hypnotizing to watch and is impressive in its attention to detail.